Founding
The Council was founded when Benjamin Macmorgan, Jeremiah Garland, and Jack Goldwrecker came to the suprise that there was no place to have large meetings on role-play, and wanted to recreate an organization much like the League of Indepedent Nations, except keeping it private and controlled. The goal is to create a group where members can speak their minds, and discuss open topics on role-play.The council recognizes that many people have many thoughts on their mind, and they should be able to speak freely without limitations. 
The Council on Development of Role-Play

Type

Thinktank and discussion forum

Location

Kiev

Membership

Exclusive - invite only

Chairman

Benjamin Macmorgan

Motto

Gathering the smartest, giving everyone a voice.
Topics
The council is open to any discussion, and its purpose is to give its members a voice to speak their minds. As such, every member is requested to speak respectively and to not engage in arguments with other members, debate is allowed, but arguing is not. Any such action would result in the immediate exclusion of the member.
Some topics which would be highly spoken about are..
Role-play - importance of Spain, England, France
How to fix Role-play?
Importance of ___ in RP
Which guilds changed RP the most?
How to improve the wiki, and its activity?
All topics are simply discussions, and the goal is to try to let members speak freely in private without having to worry about being quoted or argued with.
Membership
Membership is invite only. Members will be allowed to discuss anything in the discussions, and let their mind be heard. Members will be diverse, from different nationalities, and different ideas.
Normally in meetings, a guest speaker will be invited to join for that meeting. Guest speakers will normally be experienced in what the theme of that meeting will be, and will be asked to give their opinions on what is discussed.
There is no set number of members, and members do not have to attend every meeting. The goal is to be a resource and club, not a strict organization.
Meetings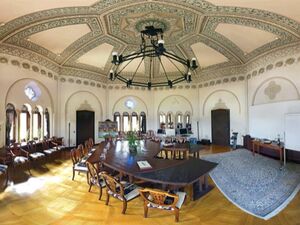 Above shows the conference room, where all discussion takes place.
Meetings will generally be on Saturday nights, but could change. Members will meet at the wiki chat, but then will be sent a private message with a link to a separate chat. The chairman will then start the meeting by announcing the theme of the discussion, each meeting will generally be split into 4 discussions, the last two being decided by the members, and the first two preset. All meetings are strictly confidential, in the case of a member giving away the link to a non-member, that member will be excluded and banned from that chat.
Members
The memberlist currently includes:
Board of Directors
Chairman - Benjamin Macmorgan
Deputy Chairman - Jeremiah Garland
Board Member - Jack Goldwrecker
Members -A list of people requested to join, if you are on the list just say in the comments if you accept to join.
CaptainGoldvane2
Nults Mckagan
Jack Pistol
John Breasly
Bobby Moon
Community content is available under
CC-BY-SA
unless otherwise noted.