This is an Administrative Blog!
Please do not spam this page with unnecessary comments.
NOTE: Spamming on this blog will result in
a warning and deletion of comment.


Avast there ye motley crew of rascals, knaves and scoundrels! It's time - to recognize the finest, bravest Pirate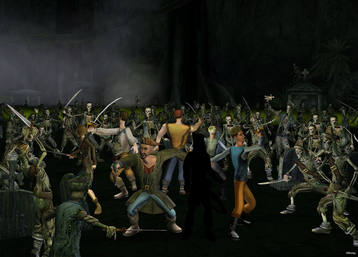 on the Wiki. Whether they've been known to beat back Jolly Roger's Invasions with one hand tied behind their back or evading Beckett's EITC forces while editing a Wiki Page, this is the Pirate of all Pirates and deserves our highest recognition.
Starting from December 18 – January 1, we want to honour those special Pirates who've aided others, demonstrated great courage, and used their wits in the face of almost unbeatable foes. If you know such a Pirate, let us know by e-mailing us or commenting below! The Pirate who's most unique and true to the Pirate spirit will be recognized as being the savviest Pirate on the Wiki - a true Savvy Swashbuckler!
Sending us your choice is simple. E-mail us at: SavvySwashbucklers@gmail.com with the subject line, "Savvy Swashbucklers" and include the following information:
Name and level of the Pirate you are nominating
The Username of the Pirate on the Wiki
Reason why you think this Pirate deserves to win. Make sure to tell us their tale! We want to hear what makes this Pirate a true Savvy Swashbuckler
What Pages we can find them on
Entries will only be accepted through e-mail or by commenting below(email is the discreet way of nominating pirates). Make sure to send your choices to: SavvySwashbucklers@gmail.com with the subject line, "Savvy Swashbucklers."
Help us in recognizing the unsung, heroic Pirates on the Wiki, and start e-mailing us or commenting today!
What: Savvy Swashbucklers
When: December 18 – January 1
Community content is available under
CC-BY-SA
unless otherwise noted.