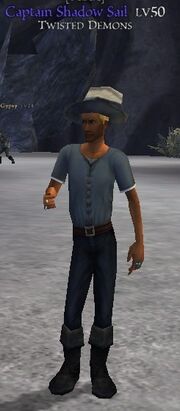 Hello, This account has been moved to, CaptainShadow11. All pages that were made by Jack, were made by Shadow. All edits, blogs, etc, also apply.
About me
Hey,
I have three pirates, Jack Daggermenace, King Shadow Sail, both mastered, and my new pirate, Soar. I love helping people out (mainly with leveling) I know all the tips and tricks to leveling so if you ever need any help, leave a message on my talk page. I love looting at Darkhart, Tormenta (Thrall Room) and sometimes Ravens. I can be found on many servers, I find that if i stay on just one server, I don't get too good of loot. I was recently promoted to an admin on this wikia, so if you are new or need help of any sort, leave me a message :)
See ya around!
Favorite Pages
My Pages:
No copying please- Applies to ALL of my pages. Please do not copy anything on them. If you really wish to, ask me on my Talk page.
My Categories
User Rank

Jack Daggermenace has the User Rank of Raider with 0 Edits
Community content is available under
CC-BY-SA
unless otherwise noted.