The HMS Slice Of Life is a merchant ship of the line that delivers spices, gold, silver, emeralds, rum, and of course SILK the captain of this ship is Mega. Mega founded this ship when his father passed away when he was just 18 so he had to battle over it against his brothers Von Bryant, and Charles Cortez.They ha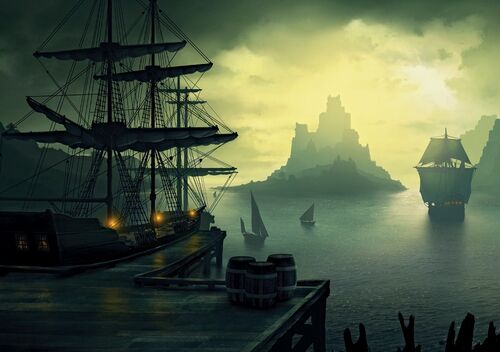 d a epic battle it was so epic that the battle was drawing straws which Mega won by "Being Clumsy".And since of Mega's Death the current captain is now Cortez his brother.It is said that
THE GREAT CABOOSTlikes
to mess around inside the cabins.
Slice Of Life Stats
Where it Makes Brith- Port of Kings Lynn, England to Port Royal.
Speed = 200 Knots - 400 Knots.
Boardsides (Incase of a attack) = 38 (19 on each side).
Cannons = 14 (2 in front) (2 in behind) (10 on each side).
Maximum Cargo = 4000 lbs of cargo can be stored.
Current Captain Of Slice Of Life = Cortez.
Type of Wood made out of = Mostly Baslsa and other types of wood.
Community content is available under
CC-BY-SA
unless otherwise noted.