The Seas of The Caribbean
Scurvy Shallows-
The Scurvy Shallows are most used for merchants, and pirates trying to make sail to either, Driftwood Island, Rumrunners Island, or Isla Perdida. The east of these waters are very calm, the sun also sets near Driftwood Island and Rumrunners. Many pirates just like to watch the sun-set, and rise! The west of The Scurvy Shallows is stormy, and considered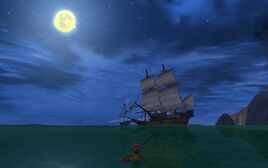 "hell". Perdida's bay is very stormy, and terrifying. It takes a lot of courage to navigate through the harsh storms of the west side of The Scurvy Shallows.
Mar De Plata-
Mar De Plata is where most Spanish ships make port, and make sail. Mar De Plata is home to many famous Spanish and English battles, but only many few live to tell the tale of the Paradoxian Wars. Mar De Plata has a mild weather, it never rains, and it never stays bright. It is a sea of the dead, many men have lost their souls there.
The Hinterseas-
The Hinterseas is a large mass of water in between Padres Del Fuego, and Kingshead. Since Kingshead is operated by the Navy, and Padres is pirate territory, no major trade occurs. The only trade possible is by Navy or EITC spies on Padres carrying goods.
Dead Man's Trough-
Dead Man's Trough is one of the many few cursed waters. Dead Man's Trough contains many ghost ships, and Navy ships. No trade EVER occurs. The islands that border Dead Man's Trough are, Outcast Island, and Isla Tormenta. Isla Tormenta's bay is always foggy, and never clear. It takes a true navigator to dock there. Not to mention, the island is inhabited by fish people. On the other hand, Outcast Island has a very calm bay, always shining a bright sun. Men and women usually come there to relax, or take would from stumps. So when ye plan on crossing the border, keep a weather eye on the horizon.
*Will edit more, please do not edit my page unless it is a grammatical error. Thank you.
Community content is available under
CC-BY-SA
unless otherwise noted.