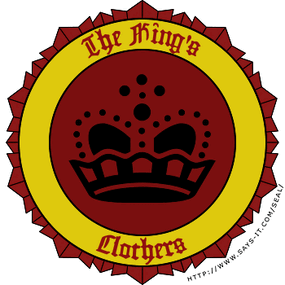 The King's Clothers are a set of peddlers for people of high political standings. They offer the finest sets of clothing around the world. You can find them anywhere from the New World, to Jerusalem.
Locations
Here are the locations of our stores in the Caribbean, and their workers.
Port Royal -- Sarge's Royal Attire

Manager—Sergeant Stevens
Worker—Mary Benedict
Worker—Wentworth Salisbury

Tortuga -- The Commodore's Promenade

Manager—Commodore Barring
Worker—Private Mendel
Worker—Billy Flemming

Padres del Fuego -- The Lord's Envy

Manager—Lieutenant Warwick
Worker—John Hansworth
Worker—Martin Grimm
Clothing Sets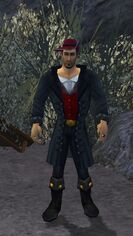 March
Hat—Burgundy Cavalier
Coat—Adventure Coat
Shirt—Valentine's Shirt
No Vest
Belt—Jolly Bones Belt
Pants—Valentine's Breeches
Boots—Blue Fur Top Boots
April
COMING IN APRIL
Community content is available under
CC-BY-SA
unless otherwise noted.