The Elite Musket Men
is a Pirates online guild made in May, 2010, but after a glitch in the game we had to restart on November 24, 2010. The GM is William Dampbellows but was under the Command of General Will Scurvyrat until winter 2011, second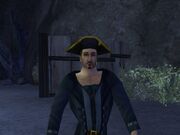 in command is Will Scurvyrat and John Daniels, third in command is Matt Menace, and Fourth in command is Skullface. We are a military guild and we use ranks to determine officers.
Guild HQ: Our Guild HQ is Fort Charles.
Our Guild Server is Vachira though we Privateer on Abassa on the French Side.
Guild Member Count: 105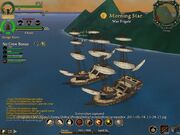 The outfit above is our original Uniform that was Changed due to confusion with the EITC and was recently brought back.
&nbsp AUTOMATIC INVITE CODE: RXUC2845
Branches: The Elite Musket Men, Musket Men Cadets, Musket Men Navy, and the Scots Regiment
UNIFORM INFO
Our Uniform Consists of The Admirals Hat, Adventure Long Coat, Dark blue cotton Puffy Shirt, the Adventure Belt, dark blue linen trousers, and hard leather Boots with an option of black boots for Officers.
Guild Motto: Down with the traitor, Up with the Star!
We are at War With The The British Empire!
For More info See Will Scurvyrat online at Fort Charles on Vachira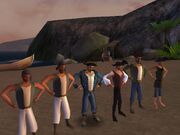 Will Scurvyrat15:21, March 24, 2011 (UTC)Will Scurvyrat
Community content is available under
CC-BY-SA
unless otherwise noted.