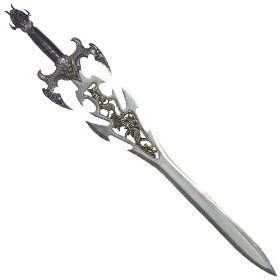 The Dragon's Bane is a very strong broadsword made by the World Wide Weapon Makers.
History
The Dragon's Bane was crafted in the Middle East by John Breasly, Captain Shadow Sail, and William Damproberts. They had forged it there, planning to fight the current holder of Ragnarok. As it turns out, the aleged holder had already hid the blade in Africa.
They split up. Shadow took to the streets with John. William stayed covered in the shadows, with the sword. When they found the house, Shadow and John barged in, and went into battle using a form of Kung Fu taught into the Middle East. William cut a hole in the roof, then dropped down. The force of his hit on the man destroyed the village. Because only John, Shadow and William had the protecting spells on them, only they survived.
They placed the sword far away, in their base in Mongolia.
Because of this sword's design, it's attacks mirror that of Ragnarok.
| | | |
| --- | --- | --- |
| Rarity | N/A | WWWM |
| Type | N/A | Broadsword |
| Attack | N/A | 157 |
| Hellstorm | Rank 15 | Unleash a storm of fire, lightning, and death upon your enemies |
| Unleashed | Rank 15 | Unleash the dragon within you! Increase your attack 150% percent! |
| Black Angel | Rank 15 | Become a shadow, becoming near invisible, and taking no damage for 150 seconds |
| Hades' Nightmare | Rank 15 | Drive your enemies insane with the power of darkness and fear! |
| Use | N/A | Must be a WWWM member |
Community content is available under
CC-BY-SA
unless otherwise noted.