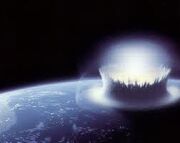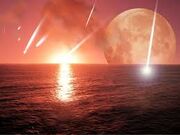 The Great Asteroid collision was a event in February 2011 also known as the Abassa Asteroid impact
A Giant asteroid was en route for Abassa. Bill Plunderbones was monitoring it and explained how it would impact. The asteroid basically would strike Abassa and send a mega tsunami across all the servers and destroy them all but Cortevos. The event first became known on February 1 as explained below and officially hit on Feb. 3rd. To actions taken by the Gen. of peace guild. the cover up was known as the February Maintenance.
What was unknown at the time was this was a ploy by Mortem to weaken the Caribbean enough for more events to follow.
Abassa
,
Andaba
,
Andoso
were the most severely hit due to them being the Top 3.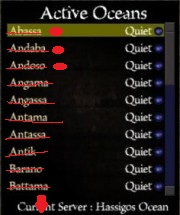 February 1st : Using Cortevos observatory, Bill sees an asteroid incoming.
Feb 2nd : Meteor showers all day long. Barrage Cortevos server and other servers.
Feb 3rd : Asteroid appears overhead passing over all servers from Vachira to Abassa. Asteroid makes impact off of Padres Del Fuego. Abassa is submerged in water.
Wave jumps over Cortevos and continues on Cortola but has lost size so the damage is lowering as is the wave.
Wave finally loses momentum when it reaches Vachira and just floods some islands.
AFTERMATH: ALL servers were submerged in water. Maintenance repairs everyone Except some select few who were lost for good (Chetik, Cortos, and others) Abassa has a huge crater in the area behind Padres now.
Feb 4th Cortevos impact: Though the tsunami didn't touch Cortevos, impact threw the climate into a deep freeze. At the same time, maintenance cover up begins work
Feb 5th : Deep freeze is over, but the temperatures collide. They create a mega hurricane over Cortevos.

Aftermath

 : Cortevos climate was restored and is normal again but it left the lava of Padres Del Fuego in a frozen state,which is one of the reasons the XLIGHT reactor was created.
Servers fixed and lost
Servers Hit
Servers Lost

Community content is available under
CC-BY-SA
unless otherwise noted.