On Jan, 17, 1745. Switzerland's Royal Parliament set a invasion on Portugal. Soldiers started the attack on Lisbon; borrowing French docks and made there way to Portugal.The attack succeeded. A victory and claimed Lisbon, Sines, Beja, Evora,Sintra, And Faro.. 10,000 men were sent.. A total of 8,000 Remain.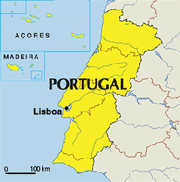 Community content is available under
CC-BY-SA
unless otherwise noted.