The Daggersteel Family
Sven, had come a long way from the EITC, yes he is indeed the son of Lord Jeremiah Garland. Along the way, Sven had found love and a new wife. His wife's name was, Trish Peer. Trish, was a regular maid in London, she was a hard worker for the family. Soon, Sven persuaded her to move to Port Royal. As Sven was getting promotions almost monthly, he found out he had a son coming his way.
A Son
When Sven found out his son was born, he hurried back to Port Royal and took a year off from the EITC. Hoping his father would be there he didn't get anything more then, a note. Sven, was a caring father and mostly made, and cooked the food when he was home. Sven, named his son, William Daggersteel, but since his son is fifteen now and a general in the EITC, he likes to be called, Grunt.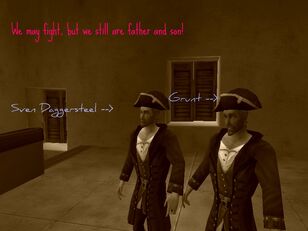 Fun Photos Of The Family!
Coming Soon!
Community content is available under
CC-BY-SA
unless otherwise noted.