What Are We
Skull's Bootcamp was founded on April 22nd, 1722, by Capt. Skull X. Its intention is to train noobs to become good players and fighters, especially in the art of PvP and SvS.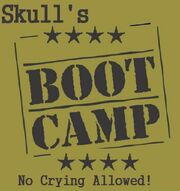 Training Programs
Privateering (SvS)
Pirate Vs. Pirate (PvP)
Medical and Healing
Orders and Commands
Members
Head Instructors
Capt. Skull X ~ Founder, Head of the Camp
Chris Swordbones ~ Co Gm, Second in Command of the Camp
John Stormpaine ~ Head of PvP Training
Rockhopper ~ Head of SvS Training
Cherie ~ Head of Medical Operations
Training Instructors
Veterans
No Veterans Yet
Students
No Students
Bases
Main Base
The main bootcamp is located across the entire island of Isla Perdida. It contains several SCUD Launchers and SAM Rockets, specially designed by Daggerpaine Industries for Skull's Bootcamp. They are experimental, but from tests, have been perfected. It also contains several camps, with barracks, shooting ranges, showers, mess hall, and several other recreational buildings. It contains a small port too for the
Community content is available under
CC-BY-SA
unless otherwise noted.