What Are We
Skull's Bootcamp was founded on April 22nd, 1722, by Capt. Skull X. Its intention is to train noobs to become good players and fighters, especially in the art of PvP and SvS.
Info
Skull's Bootcamp trains soldiers to be better fighters, and graduates have the oportunity to join the Royal Military
Weapons Manufacturer: Daggerpaine Industries
Guildmaster: Capt. Skull X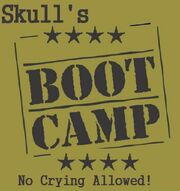 Training Programs
Privateering (SvS)
Pirate Vs. Pirate (PvP)
Medical and Healing
Orders and Commands
Ranking System
Guildmaster (General)
Co GM (Brigadier General)
Third In Command (Major)
Senior Officer - A Senior officer has great power, and may command several camps
Officer - An officer is in command of several areas of a camp
Drill Sergeant - A Drill Sergeant is in charge of training and giving orders.
Marine - A marine is the basic soldier in the camp, he has graduated, and can go on special
Private - A basic recruit that is still in training

Members
Head Instructors
Capt. Skull X ~ Founder, Head of the Camp
Chris Swordbones ~ Co Gm, Second in Command of the Camp
John Stormpaine ~ Head of PvP Training
Rockhopper ~ Head of SvS Training
Cherie ~ Head of Medical Operations
Training Instructors
Veterans
No Veterans Yet
Students
No Students
Bases
Main Base
The main bootcamp is located across the entire island of Isla Perdida. It contains several SCUD Launchers and SAM Rockets, specially designed by Daggerpaine Industries for Skull's Bootcamp. They are experimental, but from tests, have been perfected. It also contains several camps, with barracks, shooting ranges, showers, mess hall, and several other recreational buildings. It contains a small port too for the
Secondary Base
The Secondary base is a camp in El Sudoron. It contains areas for training guns and Swords. Marksmanship would take place near the camp and on the hill. As for Sword training, it would be on the lower ground near the Stumps and Fly Traps. The Marines' pet, Dreadtooth (AKA Placid), lives here.