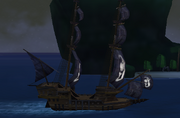 The story of Jade Heartkidd is a long one. But today I wish to tell you about Captain Heartkidd's pride and joy-the
Silver Enchantress
.
Jade was not rich at first, no. But when word got around of her, she started to reach that status.
When Jade found herself with nothing else to spend her gold on, she got an idea. She sold her Galleon, Frigate, and Sloop, and used all the gold to buy a War Frigate. She called it, the Silver Enchantress.
It's armor down, as it got older, required Jade to pay for some new woodwork and hulling for the Enchantress. She spent all her gold on it. ALL. She had nothing at all left. It was all gone, but she still recalls it as one of the greatest choices she's ever made.
Community content is available under
CC-BY-SA
unless otherwise noted.