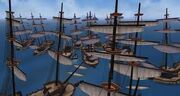 On November 5, 1744 ( 2011 ).......... Maxamillion coughed up blood on John Warsmythe's coat, asking John for favors. After half way through the favors, he said " Make sure I have a good funeral, Ok? ", then fell into Johns arms and died. The great EITC Lord had died. All of his men, and friends, wept, wishing they could have said goodbye. We will have a great funeral, but it will shred tears. We will have a ship line in worship, a surrounding line of Kingshead for Max, and at the end have tea, and say our final goodbyes. Maxamillion will be remembered for the caring, friendship, courage, and intelligence, and a great heart...
NOTE!: First time he died this summer, he didn't state he was going on vacation with his family. He was only pretending though... SECOND TIME ( LAST WEEK ) Leon hacked his account. and got him banned on wiki, and said im going to die. Now hes died for good, his debt has taken him to a whole new level. + He wants to start over on a guy named Samuel Babeard ( all of people know him ).
Funeral
Date: November 12, Saturday, his funeral will be held at Kingshead at the tree where Lord Cad Bane was buried.
Time: 12 - 1 PM Eastern Time
What we'll we do?: Burry Maxamillion and make his final request finished
NOTE: CARLOS AND SPANISH ARE BANNED FROM FUNERAL!
ASK IF YOU WANT TO ATTEND
Quests
Princess Carly
Princess Emily
Johnny Coaleston
Jeremiah Garland
Samuel Harrington
John Breasly
Eric Machawk
Sven Daggersteel
Eric
Bobby Moon
Stormwalker
Benjamin Macmorgan
Captain Kwgar
Cad Bane
Johnathon Goldtimbers
Captain Leon
Ned Yellowbeard
His Majesty, Sir Carlos Clemenete! - accompanied by Grand Lord Admiral William Sharkskull, Commodore Spade, Lord Jack Redsilver, and King Davy Badbones!
Davy Gunfish
Lord Lawrence Dagger ( WILL BE GUARDED )
John Warsymthe
Matthew Blastshot
Poeman
Davy Badbones
Ryan Blademonk
Sam Hookrage ( WILL BE GUARDED )
Lord Matthew Louis Goldtimbers
Lord Andrew Mallace
Captain Josh
Marc Cannonshot
Jack Pistol
Emily Darkvane
Ishmael
Lord Cutler Beckett ( Not really )
Leon the Third
Edgar Wildrat
Roger Decksteel
Edward Daggersteel
Samantha Goldshot
Joshua Pond
William Yellowbones
Samantha Decksteel
Roger Decksteel
Jason Shiprat
Jason Yelloweagle
Duchess
Jim Logan
Captain Ryan
Ben Scuryfoote
Redsteel
Nate Crestbreaker ( WILL BE GUARDED )
Jason
Richard Sternsilver
Jobs
We'll need heavy guards at this Funeral ( Everybody will have their chance for a goodbye ).
THE GUARDS
ONE PERSON BARRIES HIM
CHEFS & HEAD CHEF
Video Taker - and Snap shots
TEA PEOPLE
Community content is available under
CC-BY-SA
unless otherwise noted.