Roger Mcbellows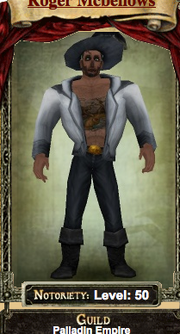 Roger Mcbellows started playing in the early days of potco. He joined the first ever Palladin guild. (Note: Palladin was spelled wrong, but kept.) The leader then decided to quit (Leader Name Unkown). He gave the leadership of Palladins down to Roger Mcbellows. He then created the Black Palladins. Where he recruited some notiable people (John Macbatten, Jane Fletcher). He sense created many Palladin guilds, all brining down the EITC. Then on Raven's Cove, he stated that he would no longer be returning to the game. Died in October of 2011.
Community content is available under
CC-BY-SA
unless otherwise noted.