}}
Possible Discharge of Jason Blademorgan pertains to role-play.
Trial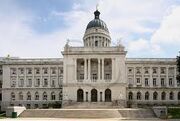 Jason Blade Morgan you are herby brought to court on behalf of Lord Maxamillion. You are Currently Charged With
Lieing to some men in the EITC
Spending Large Amount's of time with Spain in their Guilds
Shot Lord Jeremiah Garland
threatening Lord Maxamillion to Death
Robed a EITC Bank
Claiming to be a High lord and in the Council of Elders, That you have said to many people.
Cursing at his own men ( Sven Daggersteel and Maxamillion )
Their shall be a Meeting Held for this matter shortly and the time WILL be posted momentarly.
Any Failer, To not show up for court will resault in a matter of discussion of your actions, and Consequences.
Untill this meeting is to take place, you are herby striped from your rank.
William Brawlmaritn 22:41, September 13, 2011 (UTC)Lord Maxamillion and Lord William Brawlmartin
Community content is available under
CC-BY-SA
unless otherwise noted.