Poland—Lithuania is a new guild created by General Dmitri Woźniak (James Swordwrecker), Lt. Admiral Jonathan Nelson, and Commodore Gerard Jabłoński. It is a militaristic role-play guild (the only guild role-playing as the nation of Poland—Lithuania as of now, in fact) that is growing fast and already has several essential members. We do not just go by PvP battles. We do actual military training and have sessions daily.
We practice musketeering, marksmanship, swordsmanship, firing lines, holding steady in the heat of battle, and more. Below are some screenshots: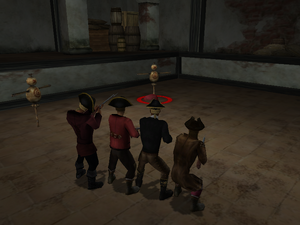 We have a strict uniform policy. If you prove yourself loyal but cannot afford the uniform, we will provide the necessary funds via poker.
We have uniforms for both basic and unlimited and different ones for different ranks.
Basic
•Red Bandana (or Scoundrel Hat if you have it)
•Belted vest
•Red Linen Short Sleeve
•Box Belt
•Leather Highwaters
•Wallop Boots

Unlimited (Recruit)
•Rough Tricourne
•Red Sack Vest
•Red Cotton Jacket
•Plain Linen Long Sleeve
•Any belt with a buckle
•Any brown or black pants
•Any black boots
Poland—Lithuania is Under Construction!

This article or section is currently being edited by Jarod!

Please do not edit Poland—Lithuania unless it is a spelling or grammar issue
Community content is available under
CC-BY-SA
unless otherwise noted.