New Spain is a large island found at the edge of the Caribbean. You can only find it by sailing north until you find it. It is also surrounded by Wild Islands, but you cannot dock on them. You will have to go here as part of the Quest: A Spanish Legacy.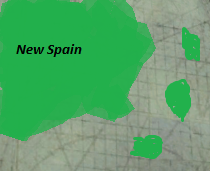 Areas
New Spain is full of places to explore.
The Coast
A long, coastal line. This is where you end up when you dock here. A Cannon Defense Tower and a Shipwright are to the west of where you land. All kinds of Crabs inhabit the coast.
Marshlands
A wet, marshy area full of seaweed. Many Marsh Wasps roam the area looking for prey, which could mean pirates.
Evergreen forest
A huge forest, full of danger. Bounty Hunters, Fly Traps, Alligators, and even Undead are here.
Road to Cadiz
A long road that leads the the City of Cadiz. No enemies are found on the road, but various critters surround it.
City of Cadiz
A huge city with many streets and buildings. All kinds of merchandise is here.
Including:
Shipwright
Infamy Rewards
Taverns
Tailors
Barbers
Peddlers
Blacksmiths
Gunsmiths
Palace
A grand palace, full of Spanish guards and statues. The King himself waits at the back of the palace.
Community content is available under
CC-BY-SA
unless otherwise noted.