Morocco is an outdated article. No further edits on this page are needed, unless they are spelling mistakes. This page acts as a Historical Document and is not intended to start any arguments or hurt feelings.
Morocco
is a country located in North Africa
The two main languages spoken here are Arabic and Berber. Its Capitol is Rabat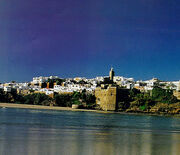 Morocco is also a target of Barbary Pirates and was raided by them many times.
Community content is available under
CC-BY-SA
unless otherwise noted.