McRaging Guild

McRaging
is a famous guild in Pirates Online, with over 450 members. It was founded by Eric McRage and has several iconic pirates such as
Pretty Polly
, Angel Blasthazzard,
Invincible Warlord
, Kate Hexsilver, Themgrind, Fallyn etc. The guild is known for being the top in rankings and leaderboards of POTCO.It is also the winner of most enemies defeated contest (2009). They won by almost 100,000 enemies. McRaging is known for being a top power guild in the Caribbean. The success of this guild is unrivaled. McRaging, despite the name, is a moderately peaceful guild. Besides fighting enemies, McRaging does not participate in "Guild Wars" or other wars with EITC players, portrayed in "
The EITC Warring Period
". They frown upon such brutality. However, they are strict and rule abiding. Eric McRage keeps the guild in check with his clear set of rules. In the words of one pirate (who has asked to remain nameless), "Eric is really strict, but definitely keeps everyone in check. The only glitch he allows is the General Darkhart glitch. He's a great guildmaster though. Lots of fun!" Others have commented more negatively. Another pirate commented, "McRaging's guildmaster is a tyrant! We can't see how he got so many members!" There's no denying McRaging is one strong guild!
Invincible Warlord:"When I was active back in 2009 Angel Blasthazzard was Co-GM and the driving force behind ranking."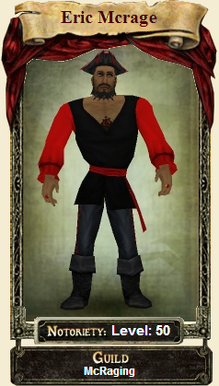 To join, go to disneypotco.com and download the game.. then, find a guild member in game and simply ask. There is no level requirement.
McRaging is one of the three winners of the 2012 Savvy Guild Spotlight.
LeaderBoards Stats
Overall Kills -15,720,191 (Ranked 1st)
Ships sunk - 3,157,876 (Ranked 1st)
BlackJack Hands Won -171,033 (Ranked 1st)
Poker Hands Won -50,284(Ranked 1st)
Times In Jail - 79,248 (Ranked 4th)
PvP Mayhem Wins - 2,571 (Ranked 8th)
PvP Team Battle Wins - 2,129(Ranked 5th)
McRaging Today...
McRaging is still going strong to this very day, despite being over 5 years old. Their members often loot or sail together, and attend weekly guild events and competitions. Lots of guilds have died, but legends live on... Huzzah!
Community content is available under
CC-BY-SA
unless otherwise noted.