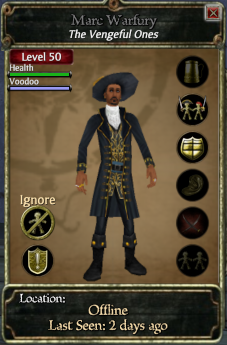 Bio
Marc Warfury is a Level 50 pirate in The Legend of Pirates Online. Marc is currently guildless. He is maxed in all stats apart from Sailing. He is also War Master land combat infamy and Admiral ship privateering infamy.
Skill Levels
Timeline
December 10th, 2016 - Marc Warfury was created
June 14th, 2017 - Marc Warfury reaches Level 50
Past Guilds
Black Mercenary - Co. Guildmaster
Exuma's Very Own - Officer
Infernal Legends - Officer
The British Empire - Officer
H A Z E - Officer
Loot Finds
Lost Sword of El Patron
Silver Freeze
38 Famed weapons
9 Cursed Blades
52 Brights
Weapon Inventory
Clothing Inventory
Community content is available under
CC-BY-SA
unless otherwise noted.