The MUTO Twins are two Kaiju belonging to the same species, but of different gender. They always spawn in pairs and will not actively pursue other Kaiju or players, but still act as typical Hostile Mobs. The MUTO Twins only spawn in Snow/Ice based biomes.
Roar
http://images.wikia.com/godzilla/images/9/95/Muto_Roar.ogg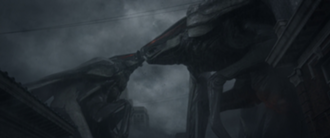 Male MUTO
Winged
1000 Hearts
Less Aggressive
30 Blocks Tall
Female MUTO
Eight-legged, much faster
1500 Hearts
Very Aggressive
Will periodically lay eggs to spawn more MUTOs
40 Blocks tall
Community content is available under
CC-BY-SA
unless otherwise noted.