John Foulroberts is a fully mastered pirate. He is currently an Officer of Dark Archive, a big, active, helpful and friendly guild.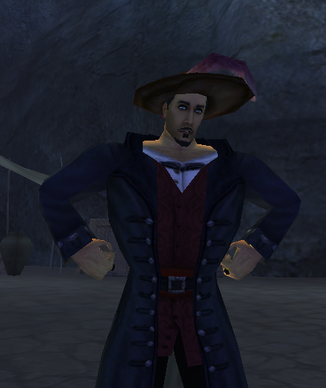 He entered the Caribbean around February 2008 and has been pillaging and plundering ever since. He has earned quite a reputation for his weapon belt and clothes closet. Being a massive looter, he has collected over 11 Legendary weapons, and 150 Famed weapons. He is in possession of the Lost Sword of El Patron, Silver Freeze, Behemoth Blade, Thunderspine Sword, the Blade of the Abyss, the Emerald Curse, the Heart of Padres Del Fuego, and Norrington's.
During all this looting, John has ranked quite significantly. You can find him on the Overall Enemies Defeated on the leaderboards, currently at rank #34 with 232693 enemies defeated.
John is always willing to lend a hand to a friend or guildmate, whether it be sailing, boss battle, Cannon Defense, or anything inbetween. He is a very skilled sailor, and has a small reputation in SvS. He is the captain of his trusty flagship, the Red Raider.
In addition to being a great sailor, John is a master cannoneer. He has dead accuracy when it comes to sniping with a round of Lightning, or unleashing a dozen shots of Fury upon a Navy hull within seconds. He's also gotten to Wave 90 in Cannon Defense as a personal best, and has acquired the sought after Revenant Ram.
Random Facts
John got Unlimited Access when he was level 11, and still has it today.
He has never been 'legit' Basic access (not legit would be Basic glitch)
He became level 50 on 10/10/10
He became fully mastered on 4/21/11
He mastered Infamy (War Master and Admiral) on 10/8/11
His personal record at Cannon Defense is Wave 90
Links
John can be found on several different sites.
Visit John's YouTube channel here.
John is a Moderator at Pirates Forums. Follow this link to his profile, and this link to the forums themselves. Pirates Forums is a free community for any and all pirates!
Visit the Dark Archive Guild Site here.
Visit John's page on the Pirates Online Wikia here.
Inventory