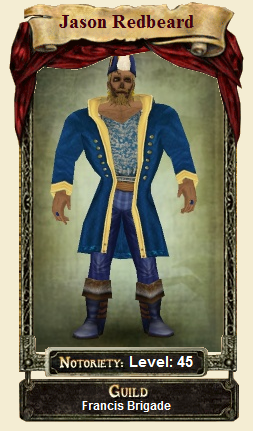 Jason Redbeard is a level 45 pirate and the new guild master of Francis Brigade.
History
Jason's past is not well known. All we know is a long time ago, he appeared in Francis Brigade.
Jason was one of Francis' most loyal servants and served without question.
When Francis Bluehawk decided to travel to Prussia, Jason was appointed guild master.
Stats
Notoriety—45
Sword—30
Gun—30
Doll—27
Dagger—30
Grenade—15
Staff—30
Cannon—20
Sailing—23
Community content is available under
CC-BY-SA
unless otherwise noted.