High Don Bluedog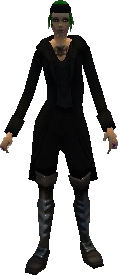 Don Bluedog is Don in services to La Mafia. Bluedog is the second female accepted into La Mafia. She is the Don of Padres Del Fuego. Bluedog picked Padres because she spends most of her time there. She loves to hang out on Padres because it is such a nice island. Bluedog is an undercover ninja assassin. She helps the Mafia kill people with her Silver Freeze. Bluedog uses her Hull Ripper and Treachery's End to kill enemies in the game. She may also use her Lost Sword or Doom Stinger. Bluedog is also known to use Bluebonnet's Broadsword to sneak up on people using her ghost form. The ghost form allows Bluedog to be completely invisible to her enemies. Her signature is special because in reality Bluedog is a nice person. She wants her enemies to see the love while she silently kills them. Her death threats come with a red rose. The rose may smell nice but the letter isn't so nice. Bluedog is working with The Mafia to earn extra money for her family. You will never see Bluedog coming until you see her green hair killing you. Bluedog is one of the High Dons in La Mafia. She fits between the Dons and the Consigileres.
Kat is wearing all Dark Black clothing.
Dark Black Headband.
Dark Black Patchwork Riding Coat.
Dark Black Ruffle Shirt.
Dark Black Linen Shorts.
Violet Silver Boots.
Anybody who has a debt to La Mafia.
Immature pirates who fight over the smallest things.
Pirates who claim a certain spot as their own looting spot.
Anybody who Bluedog is told to kill silently.
Rude pirates who yell or make fun of other pirates.
Anyone who tries to ruin a good time.
People who demand we port at full cargo but we still have room for more things.
Community content is available under
CC-BY-SA
unless otherwise noted.