Admiral Henry Blastshot Of Privateers
This page will follow the life and times of Henry Blastshot, Senior, Admiral Henry's father and Brother of Matthew Blastshot.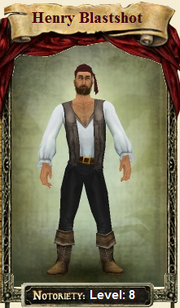 Chapter 1
Henry Had always been Interested in the Privateers, he had wanted them to win in the movies and he had always supporeted them. When he heard there was a fanPrivateers he joined immedietly. He was allowed to join . And that is when his life began, shortly he was made head of the Privateers. He had 3 sons, Henry, William and James. William was the oldest and Henry was the youngest.