Admiral Henry Blastshot Of Privateers Edit
This page will follow the life and times of
Henry Blastshot
, Senior, Admiral Henry's father and Brother of Matthew Blastshot.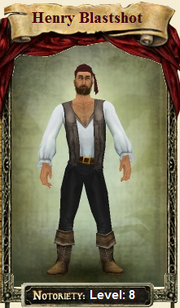 Chapter 1 Edit
Henry Had always been Interested in the Privateers, he had wanted them to win in the movies and he had always supporeted them. When he heard there was a fanPrivateers he joined immedietly. He was allowed to join . And that is when his life began, shortly he was made head of the Privateers. He had 3 sons, Henry, William and James. William was the oldest and Henry Jr was the youngest.
Chapter 2Edit
Henry was having a wonderful time in England. And he was in close contact with his eldest son, William. He and Henry had fallen out, but they had made back up again quickly enough. Henry was called to come meet his brother, Matthew Blastshot in the Caribbean by his son Henry Jr. Henry Sr, was quick to get to the Caribbean and was welcomed by Henry Jr. his wife and their children. He was amazed to see how much Henry had changed, and was happy to see he had his own new Family.
Chapter 3Edit
Henry Sr. was enjoying his first few moments in the Caribbean and was led into the Governors Mansion by Henry and his family. He saw his Brother inside, they where rather happy to meet and surprised to see each other after such a long time of not seeing nor talking to each other. Although Henry Sr. was happy.