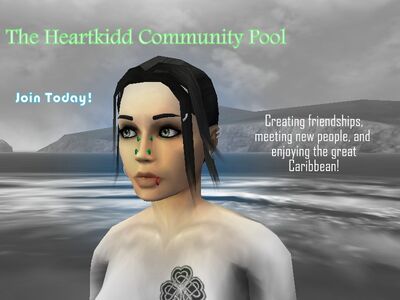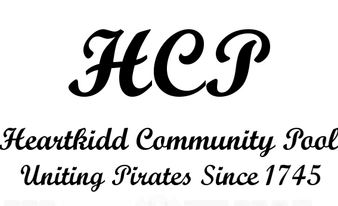 Founded by Jade Heartkidd herself, the
Heartkidd Community Pool
is one of the best ways to meet new people, and to learn about the Caribbean.
Manager Jade Heartkidd is commited to swimming inside the game and out. This "club", if you will, is a way to learn from each other about the Caribbean and to have fun doing something free and enjoyable.
Joining the pool is as easy as 1, 2, 3!
Please read the majority of the article, so you are completely informed.
Say that you'd like to join in the comments (don't forget to sign your pirate name if you are not registered to the wiki!)
You will be added to the article, and you'll be informed of when you and the other people with memberships to the pool will meet up.

If you ever have any questions about joining, ask me on my talk page here.
Location
The main pool of the Heartkidd Community Pool is the water surrounding Outcast Isle. If you are a member feel free to practice there whenever you want. (If you see someone fighting on Outcast, do not engage in hostile contact. Outcast Isle does not belong to us. Others are allowed.)
The Headquarters of the Heartkidd Community Pool is Boatswain's House on Tortuga.
Clothing
Anything that does not hang off from the skin like puffy blouses or skirts. Tight pants and shorts only allowed. No shoes. Corsets are acceptable. No hats. Jewelry is allowed. Note: Some specifc clothing may be required for certain circumstances.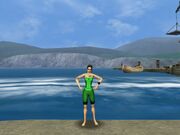 Members
Jade Heartkidd - Manager, Owner, Founder
Samantha Goldshot - Founding Member
David McMartin - Founding Member
Community content is available under
CC-BY-SA
unless otherwise noted.