What is this?
This is very likely the most powerful ship known to the Caribbean, besides the Flying Dutchman obviously. This ship was ordered to be constructed by Count Jacopo Vampa, the governor of the Isle Of Padres Del Fuego, and one of King John II's favorites. Its construction began in the year of 1652, and set sail right before the spring of 1653. It was then, sailed to England, to be added to the Fleet Of Great Britain. It turned out to be the most powerful ship in the entire fleet, to it was named the Ship Of The Line Of The Fleet Of Great Britain, and then given the name HMS Praedo, by his majesty himself, King John II.
Admiral Of The Fleet
This ship was then put under the command of Admiral Of The Fleet Of Great Britain, Jeremiah Stormwash, who at the time being, was England's greatest privateer. It has been said he sunk and plundered over 100,000 ships of Spain, France, and Italy. Over all that time, his biggest issue was when the ship ran out of food and had have the gunners fish, instead of clean the ship. In a few days, the whole ship stanched like a filed of male lavatories!
Ship Statistics
| | |
| --- | --- |
| Type: | Ship Of The Line |
| Hull: | 30,000 |
| Sails: | 10,000 |
| Speed: | 20 Knots |
| Cannons: | 18 |
| Broadsides: | 26 |
| Cargo: | 30 |
| Crew: | 20 |
| Admiral: | Admiral Jeremiah Stormwash |
Onboard This Treasure
Turning Point
The downfall of the HMS Pradeo was when it battled against the Black Pearl, the last real pirate ship in the Caribbean. Admiral Jeremiah Stormwash believed that it was too late and he decided to go down with his ship.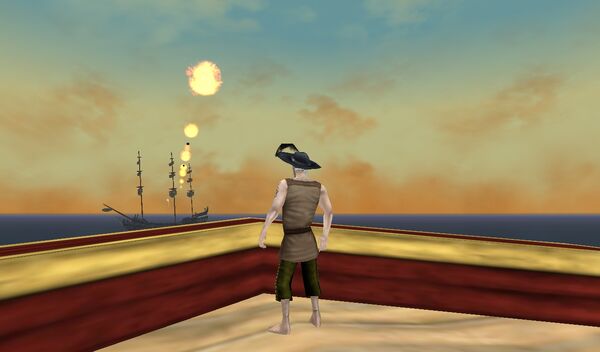 The Pearl's Escape
To his surprise, Admiral Jeremiah Stormwash found out that the Pearl let them live, and escaped to battle them another day.
Community content is available under
CC-BY-SA
unless otherwise noted.