Guild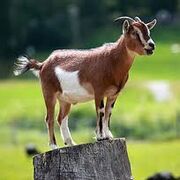 We are the guild called G.O.A.T. i hope it gets approved by disney. It stands for Greatest Of All Time. Our guild logo is to the right. I am the leader O' Skull or you can call me whiteboy. We are going to try to have some guild events and recruiting partys. With a few of my friends in the guild we will expand to a bigger greater guild. If you would like to join i could get you a guild code.
Special wiki guild ranks
Master Goat~ O' Skull
Secondary Goat~ Ricardo O' Skull
General goat~ Avaliable
Sarge the goat~ avaliable
Private goat ~ avaliable
Cadet goat ~ avalaible
The goat that runs around ~ avaliable
Note
Yes this clan is also on Mw3 as very popular clan and with good players in the clan. If you want to add me my Gamer tag is XxChowxX
Community content is available under
CC-BY-SA
unless otherwise noted.