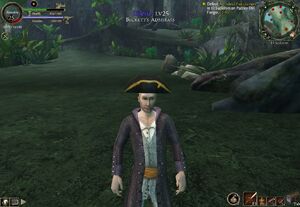 Age:27 (Deceased)
Status :Deceased (Killed by Lieutenant Richard Norrington )
Battles :With Richard Norrington's Bodyguard WIN
With Richard Norrington LOST
          Win Gillette

With Richard Norrington
Win Richard
Ships: HMS Privateer
Story
HISTORY
Part 1
Gillette is a Navy Lieutenant in Port Royal. He began his career at sea beating ships. First it was pirated. After rumors spread his works he was asked to join the Navy Beckett and so all his works have been washed.
Part 2
Lieutenant arrived, he met the son of Admiral Norrington, Richard Norrington. A veteran Lieutenant. They became good friends. After all the soldiers Richard betrayed Beckett's.
Part 3
Gillette has duel with Richard's bodyguard.After Gillette win the duel and kill Richard's Bodyguard, he fell dead on Fort Charles.
Part 4
Richard came to revenge his friend .Gillette and Richard had a duel .Richard win and Gillett die with last words : ,,Richard i'm sorry , i just want to know who is a good Lieutenant , now i know who is .Richard , you are a nice Lieutenant , just kill Beckett thank you ...."
Community content is available under
CC-BY-SA
unless otherwise noted.