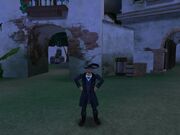 Lord Matt is seen to the right in his bounty hunter outfit.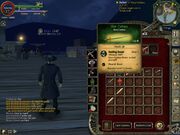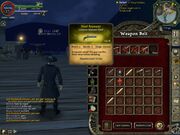 Lord Matt was in many EITC guilds such as Co.Empire (the first), Nova Empire, Legendary Elite, Black Officers, he's been in service for a total of 20 years. He left Co.Empire as a Captain and later was named a Lord. His father is Matthew Blastshot. His nickname is Matt Jr. He is the leader of Matt's Militia. Co as you can see Co. stands for the EITC or "company". The worst enemy is Roger Mcbellows a pirate who was at war with him and his EITC guild. Only Roger can kill Matt. He has four sons, two died and the other one is an EITC Lord who serves for Leon. His name is Jack Black Brade. His dearest friend was Cad Bane, he inspired him to continue with his EITC career. His life was usually around war. he lead a invasion on Tortuga.
Early Days:
Matt grew up in england and later traveled with his father to the Caribbean. His father is the leader of the Royal Navy.
Enemies:
Way too many...
First Guild:
Pitate Elite Navy or The Pen
Current Guild:
Matt's Militia. Co
Sword:
War Cutlass
Gun:
Steel Repeater
Years in military exp:
20
Best at:
Killing SkeletonsMatt Gm of the Matt's Militia Co.
Community content is available under
CC-BY-SA
unless otherwise noted.