This page contains Info that is not in any way directly associated with Pirates of the Caribbean. It was created for humor and enjoyment among the users of this Wiki.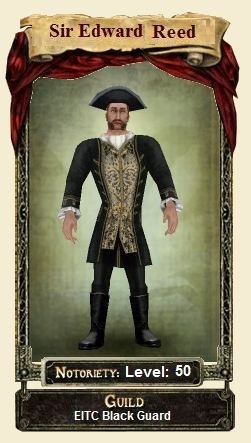 Sir Edward Reed was an EITC Black Guard member but left after the EITC after the Voodoo war on Isla Inferno.
When the crew aboard the EITC Black Raven left to explore for new islands to conquer but then once the Voodoo War started then there was a bloodshed on Isla Inferno and Edward's second in command, Captain Ulysses Grant, was killed on Isla Inferno. When the EITC finally left the island Lord Francis Beckett was talking about there being a rebellion of EITC and Royal Navy soliders to take control of the government. But Edward found out that Francis was working with a secret government that only a couple of EITC members know about. But then when Francis was no longer commander Reed left. Reed left because the EITC was acting like it was very controlling at the time. But when Reed moved to England he was killed by an assassin. According to the records he was killed because for talking out against the EITC, but the EITC killed him for trying to find out what the secret government within the EITC was about.
He sometimes appears as a ghost on Isla Inferno talking about the secret EITC government and how to find out how.
(Quest to find out what the secret government was about to be made later)
Community content is available under
CC-BY-SA
unless otherwise noted.