This page contains Info that is not in any way directly associated with Pirates of the Caribbean. It was created for humor and enjoyment among the users of this Wiki.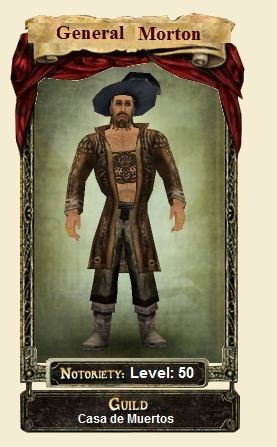 General Morton was an assassin for Singapore. As Jolly Roger's Influence passed throughout the world many of his agents went around the world. That's how he met
Aeolus
in a bar. Aeolus started to talk about how he taught the people on
Isla Inferno
voodoo and how Jolly Roger was going to invade and take over the island. This was still going to take a while for the invasion to occur. Then General Morton asked him if he could lead the undead forces and meet the infamous Jolly Roger. Finally he met Jolly Roger and then Morton asked him if he could lead the undead forces. He needed to prove himself to Jolly Roger. The only reason that Morton was doing this was to find his wife. His wife was supposed to be on Isla Inferno but he wasn't sure so he offered his services to him. Jolly Roger then said that he needed to swear loyalty to him and that if he betrayed him he would be an undead slave forever. Then General Morton wanted to go to the island and see if she was there but he didn't know where it is. Aeolus told him where it is and so Morton sailed there. He found his wife dead. Jolly Roger and Aeolus appeared where she died. Jolly Roger said if you betray me you'll be my undead slave. Then Morton was now his slave. Jolly Roger wiped Morton's memory and told him that he was to lead his undead forces to invade Isla Inferno. He did what he was told from then on not knowing of his past. During the Invasion of Isla Inferno Morton killed and slaughtered the innocent and was with Jolly Roger from then on. He is currently in the Case de Muertos guild controlling the undead forces. Some invasions are said to be lead by him.
There is also a NPC version of him on Isla Inferno for Story Quest: Isla Inferno. Not telling what happens though...
Stats
All of his weapons are mastered.
Weapon
Level
Award
Sword
30
Shooting
30
Doll
30
Dagger
30
Grenade
30
Staff
30
Potions
20
Fishing
20
Sailing
30
Cannon
30
Reputation
50

| | |
| --- | --- |
| | Fan GM General Morton has reached Notoriety level 50! |
Appearances
Isla Inferno: Invasion of Isla Inferno
Community content is available under
CC-BY-SA
unless otherwise noted.