Estela Heartlight lvl 48 (commonly known as Stella) arrived to the Caribbean in 2007 from Spain
in company of her
sister Paulette Heartlight.

When Stella was level 5, she joined the Voodoo Lords guild, where she remained until level 14. During her time in that guild she got a work with her sister and cousins (Toph and Li Bridgehazzard) at King's Arm in Abassa. There they sold rum and food like undead hamburgers and roasted parrot (Stella's favorite food) and they also had a show called "The Primas Show". Working on that bar, Stella got a lot of friends and enemies.

One night, members of the Black Mercenary's guild arrived to the bar trying to arrest everybody but they made a deal with Stella in order to stop. Since that moment Stella joined the Black Mercenary's and became a spy.

Stella worked for the EITC guilds for long time until she finally created her own guild.
Guilds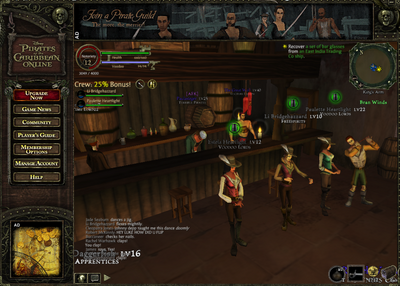 Voodoo lords EITC guilds The Co. Empire
Shadow blood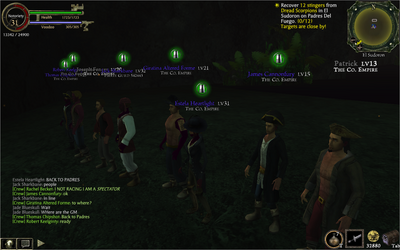 Assassins Empire Thirsty Souls
Guild page: http://www.thirstysoulsguild.com
Friends
Alot of pirates XD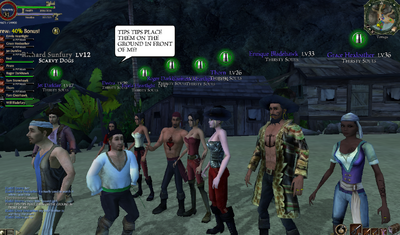 Enemies (known)
Benjamin Macmorgan
Matthew Wildvane
Samuel Darkfury
Almost mastered all the skills
Favorite weapon
Pistol
Ships
Light Sloop - Scarlett Dragon
War sloop - Scarlett Queen
War Frigate - Scarlett Mercenary
Favorite places
The Catacombs
Padres del Fuego
Ex-husbands
Samuel Darkfury
Lee Knite
Chargers
Chris Ironhawk
Benjamin Macmorgan
Community content is available under
CC-BY-SA
unless otherwise noted.