Elite Hun Hussars is an outdated article. No further edits on this page are needed, unless they are spelling mistakes. This page acts as a Historical Document and is not intended to start any arguments or hurt feelings.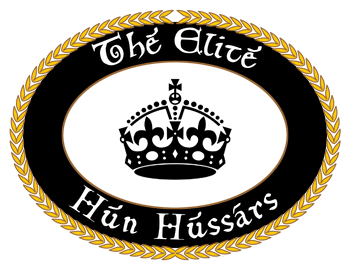 Who are we?
We are the most elite, complex, and secret group of swordsmen of the East India Trading Company. We are responsible for Lord Marshal Samuel Redbeard's and every other EITC Leader's safety and health. We are their most trusted allies, and their top chiefs of security, and security advisors. Every public appearance is gone over three times to make sure that the leaders are kept safe from Captain Leon and his men.
Members
If you would like to join, please add your name to the list below. Here are the requirements:
Must be EITC, or not against Samuel Redbeard.
If you are a spy, YOU MUST DIE!
Must be level 50 notoriety.
Must be against Captain Leon.
Jerry Of Maintenance ~ Hussar Marshal
King Matthew Darkskull ~ Brigadier Hussar Marshal
Uniforms
Clothing are only required during events, while off duty, you where what you want!
Hat: Burgundy Cavalier
Coat: None
Belt: Depends on your rank.
Vest: Embellished Vest
Shirt: Mershal Shirt Gold Trim
Pants: Matador Breeches
Shoes: None
Belt Ranks (In Colour)

Hussar Marshal: Adventure Belt/Navy Blue Basic Sash
Brigadier Hussar Marshal: Traveller Belt/Gold Skull Belt
Batman/Soldier-Servant: Box Belt
General: Red Basic Sash
Brigadier General: Red Basic Sash
Colonel: Dark Brown Basic Sash
Lieutenant Colonel: Dark Brown Basic Sash
Commandant: Dark Blue Basic Sash
Captain: Dark Blue Basic Sash
Lieutenant: Grey Basic Sash
2nd Lieutenant: Grey Basic Sash
Officer: Dark Yellow Basic Sash
Officer Cadet: Dark Yellow Basic Sash
Sergeant Major: Dark Green Basic Sash
Sergeant: Dark Green Basic Sash
Corporal: Purple Basic Sash
Private: Purple Basic Sash
Cadet: Plain Basic Sash
Alliances
Please put your guild's or government's name here if you would like to be an ally. Be sure to add a link!
Random Explosions
If you ever heard a random explosion go off on Tortuaga, The French Island, The Spanish Siland, or Padres, even any place, it was us! We have always been bombing our enemies. And we never stop! We go in a glitch, so they won't see us either while we bomb them!
Community content is available under
CC-BY-SA
unless otherwise noted.