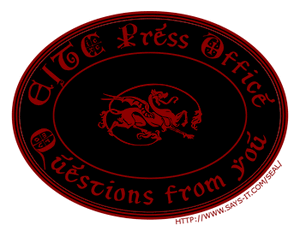 The East India Trading Company press office is a small organization that lets members of the Caribbean asks questions and get briefed on the current events, the organization is run by the EITC Director of communications who manages the local advertisement and media affairs on the internet, any person is aloud to ask any types of questions that they want, this could be about the local economy, the EITC military or even the current leadership battle.
To ask a question visit the talk page
NOTE: All questions will be answered if they meet certain requirements but make sure you see this signature to make sure it was answered by a department member such as this one:
Members of the office
Below are members of the office and what their job is in the organization:
King George "John" II
Lord Overseer Johnathan Goldtimbers
Lord Secretary Jeremiah Nathaniel "Garland" Pond
Rules about questions
Although anybody is allowed to ask almost any question that comes to mind there are cetain questions that cannot be asked, this may be due to privacy or a affect that it may have upon people.
Below are the current rules:
Make sure no bad verbal comments are made towards the organization, EITC or other comments left by users.
Try not to get angry about a certain comment, as it is only a comment.
Do not leave any unnecessary comments on the page or at the bottom, they will be withdraw by the Department leaders and not answered.
MORE RULES WILL COME SOON
Who are we?
Our team of the press office are some senior members of the EITC group lead by the Lord Marshal Samuel Percivil Aberforth Redbeard, our mission is to answer your views of the Caribbean, for without our branch in the East India Trading Company the mission to remove Captain Leon from power would not of happened.
We will also answer questions that you have said, not those that we make for you to hear for it is a key importance for the community to make their impact on the current events.
QUESTIONS
Here is the place to put the questions you would like to be asked, please not that this page will be checked daily and you will have the answer on the page and on your user account.
QUESTIONS:
Yes i have a question, Leon has this paper that guaranteed him complete control over the EITC with no questions asked and no way out for 2 years. How did he lose power? Captain Jim Logan 20:12, March 7, 2011 (UTC)
Can my EITC Guild, Ghost Tours, run the EITC Trading Co. Office on Tortuga? Also, we run a balck powder business...
Community content is available under
CC-BY-SA
unless otherwise noted.