}}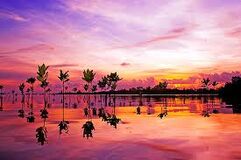 History
Donde Sale El Sol, Spanish for "Where the Sun Rises", is a mystical isle beyond World's End, hence the name, Donde Sale El Sol. The island was discovered by greed-driven Spanish conquistadors, sailing towards the rising sun.
The island seemed to emerge from sea as the sun rose over it. The conquistadors built a settlement on the island, calling it El Mismo Sol, Spanish for "The Sun Itself", considering the fact that the rising sun of each day almost blinded Spanish settlers, because the sun was so close. However, what was so good about this island, besides its beauty?
The settlers then discovered a stash of Aztec gold, hidden in a hollow tree. Under the rising sun, they buried it somewhere on Donde Sale. Only days later, a horrible, unknown disease struck and killed almost half of the El Mismo settlement. The survivors sailed away, but were caught in a sudden waterfall, never to be seen again...
The island was deserted. The island seems to be peaceful, but upon landing on the island, you have sealed your doom, as the mysterious plague still secretly ravages the island.
Enemies
Creatures
Infected Wasp - lvl 30 - 40
Huge Sciorpion - lvl 40 - 45
Huge Crab - lvl 40 - 45
Human
Plague Victim - lvl 1 - 3 - Spreads Blood Sap Debuff - Melee
Plague Spreader - lvl 45 - 52 - Spreads Blood Sap Debuff - Has extra power due to anger - Melee
NPCs
Human
Fernando Stuez, Plague Survivor - Lives in a shack on the Western End of the island
Nundezvos, Conquistador - Roams the shores of the island
Areas
Eastern End - Settlement Ruins
Western End - Dark Side of the island
Mismo Jungles - Where Plague Victims are
Quests
Beyond The Horizon - Captain Barbossa
Mismo Treasure - Nundezvos

Community content is available under
CC-BY-SA
unless otherwise noted.