The story of
Daniel Plainview
begins with his humble beginnings as a mineral prospector in Padres Del Fuego and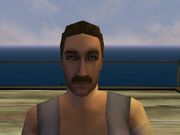 surrounding volcanic islands, where he searched for gold, rubies, gems of all kinds, day and night. He worked alone, and he set up camp nearby his work areas, where he would eat and drink during breaks. The wind that blew right before the sunset was one of Daniel's favorite memories of the old days, before the British and Spanish began their wars.
Daniel was a greedy man, full of backstabbing and love of money, and he would take out anyone who he thought was not helping him achieve his goals. But still, Daniel cared for his adopted son, Henry, like he was his own.
Community content is available under
CC-BY-SA
unless otherwise noted.