Nikolai Sharkhayes
Nick was born in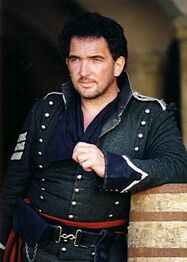 Russia.
He was in the navy for one year and quit, and started a life of piracy . His arch enemy John Mcskull, tried to make people hate him by sabotaging the first shock division.
He was recruited into The Twenty First Regiments Light Company in 1744, and served with Major Richard Venables the commander of the Light Company. He Was made a Lance Coporal in 1745.
He was promoted to the rank of Sargeant after the adventures in The Story of Richard Venables: The Lost Chapters.
Enemies
Joseph McSkull
Allies
Lt General Richard Venables-Closest Friend and commanding officer.
Lt. Colonel Ishamel Venables-Most trusted friend and commanding officer.
Sam Yellowfoote
Evan
Vida Del Pirata
The Sharkhayes League
Leena Dark Rose
David Stormskull
Will
Caitlin Rose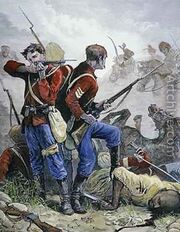 Home
My home is in Calcutta. I left my family to serve in the EITC. My good friend, Lieutenant General Richard Venbles, gave me the position of British native affairs at the EITC offices in Calcutta.
Family
Nikolai the Feared (Brother)
Borya Palachnik (Brother)
Mom: unknown
Dad: unknown
Known Decendants:
Derek Westbrook (1744-)
Peter MacTavish (1745-)
Lee Enfield (1745-)
Lee's Godfather: Major Venables
Peter's Godfather: Major Venables
Derek's Godfather: Major Venables
Community content is available under
CC-BY-SA
unless otherwise noted.