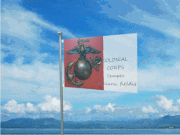 A new Corps not affiliated to any specific country or empire excepting the Colonies. We are they're defense force based on Kinghead on the Tortos server.
Mission Statement
We are the active duty and reserve corps that includes the Army, Marine Corps, and Navy as well as their individual auxiliaries the Young Men's Army Alliance (YMAA), the Young Marines (YM), and the Young Seamen's Alliance (YSA) as well as the Army and Navy Women's Auxiliary Corps. We offer an Army and a Naval officer Academy for those willing to learn advanced leadership.
Titles
Commander in Cheif
Chairmen, Joint Cheifs of staff
Vice Chairman, Joint Cheifs of Staff
Joint Cheif of Staff
Cheif of Staff of the Army (Navy and Marine Corps all equal)
Vice Cheif of Staff
SOCOM Commander
SOCOM Vice Commander
Battalion CO
Battalion DCO
Battalion XO
Battalion IO
Battalion CSM
Company CO
Company DCO
Company XO
Company IO
Company FS
Platoon Leader
Sqaud Leader
Guideon
Element Leader
PAGE TO BE COMPLETED. MEETS ALL GUIDELINES PLEASE DO NOT DELETE.
Community content is available under
CC-BY-SA
unless otherwise noted.