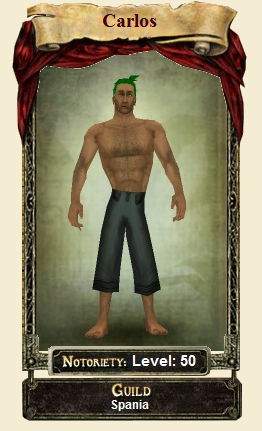 See Carlos's public profile at Pirates Forums:
http://piratesforums.com/members/treasurer.1/
Pirates Forums is a growing community of pirates and guilds providing discussion boards and other services to pirates for FREE.
Carlos is a famous pirate in POTCO. He has lead his guild Spania to win different titles, and official Disney awards such as of the "Strongest Guild" In the Caribbean. He and his guild have received official recognization from Disney including titles for archivements, such as the most enemies defeated with a wooping .79 million enemies ( most Skeletons defeated, and most Navy and EITC defeated in August 2010). The awards were delivered to the entired guild. Every one of the 500 members. No other guild has ever gone this far. His guild beat 2009 record of .56 million by Mcraging guild, which included participates of fearless top rankers such the Invincible Warlord.
Pirates Online has never seen recognitions in such scale, Spania has made history, and it is very unlikly any guild will ever beat its record.
Carlos gave up his title of guildmaster to his other pirate Treasurer. Later he became guildmaster again.
Disney also awarded Carlos with the title of "Savvy Swashbuckler" in the year 2010 by unanimous vote of pirates all over the Caribbean, including his admirers, guild mates, and friends. Carlos is known in the Caribbean for his leadership and determination. Fearless Carlos is well respected in the Caribbean, and is always ready to lend a hand to those pirates who might need it.
You can check out Spania's Youtube Channel by clicking here.
Community content is available under
CC-BY-SA
unless otherwise noted.