Behind the Bars , Life in the Caribbean
Simon was sentenced 28 years behind the bars. Three months later, the Black pearl appeared and fired on the jail and destroyed almost the whole Fort Charles! Simon created a guild called the Ocean Sea Gang(EVERYONE IN THIS GUILD IS DEAD) and together they built a ship called the Lightning Wolf( more info on The Lightning Wolf Page. They were a crew of the most savvyiest pirates in the Caribbean. One night the Pirate King( name not known(first court) invited Simon to the First Brethren Court to be a Pirate Lord. Simon accepted. Together the brethren and all the over pirates fought tHE EITC and never lost control of the Caribbean.
Fatbeard has gone missing!
My good friend and Captain has gone missing! Last I heard of him he went to discover a blade on Raven's Cove, Please help me and you will be greatly rewarded!
STATS of SIMON SWORDSILVER
LEVEL: 32
SAILING:10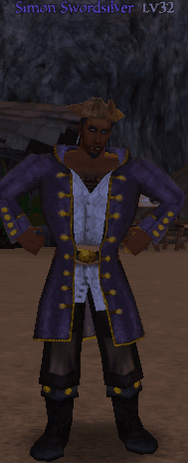 SWORD: 24
SHOOTING: 18
DOLL: 11
DAGGER:20
GRENADE:30
STAFF: 17
CANNON:12
Community content is available under
CC-BY-SA
unless otherwise noted.