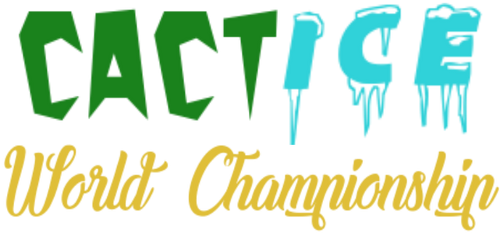 Cactice World Championship

Current one-time Champion, Ned Edgewalker, with the Cactice World Championship helmet

Date Established

August 10, 2016

Current champion

Date won

July 11, 2018
The Cactice World Championship is a title contested in games of Cactice. The current Cactice World Champion is Ned Edgewalker, who is in his first reign and is the fourth champion overall.
The title initially started as an informal term to refer to the winner of the Cactice portion of the 2016 Wiki Olympics, Squirto. It then came to refer to the winner of the 2018 version of the same event, Cactice Jack, who defeated Squirto in the finals. Eventually, on June 26th, 2018, a tournament was held in which the winner would be given the opportunity to fight Cactice Jack for his title. This tournament was won by Jack's own son, Cactice newcomer Amare. Since then, the title has been defended in games of Cactice, usually following gruelling tournaments to decide who faces the champion.
Tournament History
2016 Wiki Olympics
Please see the original blog for a full write-up of the event
Winner: Squirto (defeated Cannonwalker in the finals)
2018 Wiki Olympics
Please see the original blog for the full write-up of the event
Winner: Cactice Jack (defeated Squirto in the finals)
Tournament I (6/26/2018)
Originally meant to be a regular game of Cactice, this tournament was created to decide an impromptu challenger for Cactice Jack's championship. The three competitors, Squirto, El Underdog and Ned, started with an opening scrimmage; the winner would go onto the semi-finals, whereas the losers would fight in a best of 5 series for a spot in the semi-finals. El Underdog squeezed out the victory, last sending Ned hurdling into the ocean for the win.
Underdog and Cactice Jack watched on as Ned and Squirto had their best of five series. To everyone's surprise, Ned clean-swept the former Cactice Champion with ease, defeating him 3-0, prompting a post-match beatdown from the latter.
Ned and El Underdog both took to the arena for their semi-final match. However, as it was about to begin, a new competitor introducing himself as Amare entered the battlefield. The opening scrimmage, it was decided, would be tossed out and El Underdog would face Amare in a quarter-final match to decide Ned's true opponent. Unexpectedly, El Underdog was immediately put at a 2-0 deficit against this newcomer, barely even being able to touch him. El Underdog drew from his experience in difficult situations and attempted to gain the upper hand in round three; Amare pushed him against a cactus and beat him to death.
Then came the semi-final between Amare and Ned, a best of five match. Amare won the first two matches handily, though Ned did what El Underdog could not in round three and pushed Amare off the side. Though Amare was proven to not be invincible, he was still a very difficult challenger and defeated Ned in close contests the next two rounds, winning the semi-finals 4-1.
Amare thus far had proven to be a nigh impossible challenge for all who stepped in his path, but could one of the innovators of the game of Cactice, Amare's own father, Cactice Jack, finally put an end to the madness in a best of nine series? The answer is no. Amare defeated Jack in the first four games, the third of which was by a knockout, immediately putting the reigning champion in a difficult position; he would have to win five games in a row in order to remain champion. Though Jack was able to win the fifth round, Amare ultimately won the sixth and became champion with a score of 5-1.
Winner: Amare (defeated Cactice Jack in the finals 5-1)
Amare's First Defense
After Amare's simultaneously stunning and shocking victory, various defeated parties began to murmur to overthrow the champion. One such bitter individual was Ned Edgewalker, whose name is ironic because he's much more better at getting flung off of edges. Jokes aside, Ned sought revenge; after all, the one point he scored versus Amare's four had to mean something!
And so Ned trekked the snow-coated plains of southern Occa in search of his usurper. The biting cold did not serve to wipe from his mind the blow his pride had only just barely endured. There, wandering the plains which once shielded the hermit village of Denshire, Ned continued the determined hunt.
After a nomadic journey spanning more than a week, his efforts paid off. In the historic but downtrodden stadium of South Occa waited Amare, the don himself. Amare, voiced by James Earl Jones, wasted no time in greeting the visitor:
"I've been waiting for you, Edgewalker. We meet again at last. The circle is now complete. When I left you, I was but the master... and I'm still the master." He unsheathed his dual cactice sticks.
"Only a master of evil, Amare." replied Ned, hiding his fear behind bold words as he, too, drew his weapon.
And the display seemed to pay off; a great initial offense by Edgewalker saw Amare quickly launched from the platform at 1-0.
"You can win, Amare. If you strike me down, I shall become weaker than you could ever imagine." said Ned.
"Your powers are weak, old man!" replied Amare, now mounting a vigorous offensive which Ned could not protect against. He was quickly launched off, evening the score at 1-1. And Ned would never win again; despite a few close calls, the cacti were on Amare's side, and his skills only sealed the deal.
The match was now 3-1 in Amare's favor, and Ned was walking the edges...
"You should not have come back." said Amare ominously... before ganking Ned and launching him into the horizon. With Ned seemingly disappeared, and the score at 4-1 in a relative sweep for Amare, the first successful championship defense was written in history books.
And Amare returned to sleep, waiting for his next challenger...
Tournament II (7/11/2018)
This tournament was held on July 11th, 2018. Though most records relating to this tournament were destroyed in the Great Comayagua Baked Potato Cooking Incident of 2018, it is known for certain that this was a four-man tournament, whose first matches consisted of Sam facing Ned and El Underdog facing the champion, Amare. Ned and Amare won their respective matches, meaning Ned would receive a second chance to fight Amare for the Cactice World Championship.
No specific records of these matches still exist (to our knowledge), but it is known that Ned defeated Amare on this day and became the Champion. Ned claims he defeated Amare 4-2, and Amare could not be reached for his side of the day's events because he went inactive indefinitely to focus on school felt great shame from his defeat and went to live in the mountains as a hermit.
Competitors
Title Reigns
| # | Competitor | Reign | | Date | | Days Held | Event | Arena | Successful Defenses | | Notes |
| --- | --- | --- | --- | --- | --- | --- | --- | --- | --- | --- | --- |
| 1 | Squirto | 1 | | August 10, 2016 | | 515 | The 2016 Wiki Olympics | Cactice+ | 0 | | Defeated Cannonwalker in the finals 6-5 |
| 2 | Cactice Jack | 1 | | January 7, 2018 | | 170 | The 2018 Wiki Olympics | Original Cactice | 0 | | Defeated Squirto in the finals 6-2 |
| 3 | Amare | 1 | | June 26, 2018 | | 14 | Tournament I | Original Cactice | 1 | | Defeated Cactice Jack 5-1 |
| 4 | Ned Edgewalker | 1 | | July 11, 2018 | | 123+ | Tournament II | Cactice+ | 0 | | The records of this match were lost; it's believed Ned won 4-2 |
Combined Reigns
Reigns are ranked based on successful combined title defenses, and if those are the same between multiple competitors, number of combined days as champion; the one marked in bolded italics indicates who the current champion is