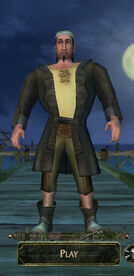 Blastrackham is a Pirate of
Piplupower
He is a sizable man with decent levels. He had a very tragic life, for his mother and father were said to have died when he was just a small boy. He currently has a wife and two children and is very happy, unlike when he was a child.
Level: 13
Cutlass: 7
Pistol: 7
Voodoo Doll: 7
Dagger: 3
Sailing: 7
Cannon: 7
Guild: Jig Jockeys
Favorite Server: Vachira
Family
Mother
Unknown
Father
Unknown
Children
Wife
Community content is available under
CC-BY-SA
unless otherwise noted.