}}
Happy Birthday Lizzy!!!
Happy Birthday to you Liz! I wish you a very very very happy birthday. You have for sure changed my life somehow, as well as others. And this day is a very special day, the day you became known to the world as someone who'd change lives here. I am glad to have met you and wish you a happy birthday this year!
HAPPY BIRTHDAY Liz hope you have a wonderful birthday Bill Plunderbones, Head of the Society of Light. Co-GM of the Gen. Of Peace, Emperor of Japan Ceo of DI,
Happy Birthday, Lizzeh :P Have an awesome day!
Happy B-day LIZZEH!!! :D Lord Jason Blademorgan, EITC Officer

22:17, October 5, 2012 (UTC)
Well I was actually coming back from afk-ness to make this, but Al beat me to it! Happy birthday Liz (I won't say your real name :P). You've been an amazing friend to me even when I've been a jerk. You've calmed me down when I was just about ready to hack someone (more than once), you've been there to listen to my problems when I really needed to shut up. I can't say how many times I've been glad to see "Gibbsgirl11" on chat after a bad day. I'm glad I've been there to help you out when you weren't in the best of moods :P. Most importantly, I'm glad to call you one of my best friends. Happy birthday :)
--John Breasly, Savvy Designs Member 22:09, October 5, 2012 (UTC)
HAPPY HAPPY BIRTHDAY!!!!!!!! IT'S YOUR VERY SPECIAL DAY HAPPY HAPPY BIRTHDAY AND NOW GO ENJOY SOME CAKE! I hope you have a awesome birthday Elizabeth :)!!!!!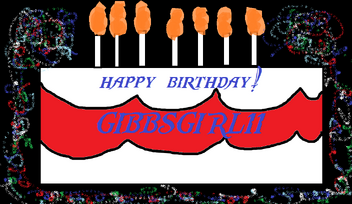 Elizabeth, thank you for everything that you do for me everyday. I know it may not seem like much, but simply taking the time to PM me, and just talk about ourselves and our day really means a lot. I hope you have / had a good birthday, and remember that I love you, sexy ;)
-- Jeremiah
Ahh! Happy birthday, my sweet daughter! I hope you enjoy your young age while it lasts! You have grown up SO much, I can hardly contain myself! One more year until a car! I hope your "man friends" take wonderful care of my baby girl! Or else, I'll get my shot gun and take aim! Thank you for being there when I have needed you most. Always remember that I love you, Elizabeth. Good luck. :)
I know its a bit late, but.. :P i want to wish you the best happy birthday, and those to come. Hope you had a great one this year!
Your's Truly,
Lord WB of the East India Trading Co. 12:45, November 17, 2012 (UTC)Lord William Brawlmaritn