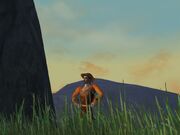 History
One day, when the Spanish army on Isla de la Avaricia were doing drills, a group of raiders called El Bandidos stormed the island and attacked the Spanish soldiers. There was an epic battle, and El Bandidos slaughtered all the soldiers. El Bandidos claimed the scrap of an island, and called it Bandido's Bay.
Today
Today, Nate could be found here training and preparing Muerte Bandidos.
NOTE: Do not come here without permission, violators will be shot. Survivors will be shot again.
There are some special features at Bandido's Bay such as the Watch Mountain and the meeting tower. Nate also owns his own home here, which is a tree hut.
This place is where Nate trains his Muerte Bandidos, but the army itself is trained in a secret, unknown place.
Land
other land owned in Guines:
Rumrunner's Isle
Isla Perdida
Secret Mountain in Tortuga
Community content is available under
CC-BY-SA
unless otherwise noted.