BEWARE: Catfhish!
Legend says giant, terrifying catfish are swallowing ships. Beware...... for cats are turning into fish. If your cat begins to grow at a rapid pace or is growing scales or a fin, then keep it away from the ocean at all costs and call a pound! BEWARE OF THE MAN-EATING CATFISH!!!!!!!!!!!!!!!!!!!!!!!!!!!!
Ye be warned . . .,
~Spike1234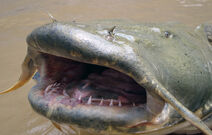 Community content is available under
CC-BY-SA
unless otherwise noted.