Armada of Storms is a guild created by Nathaniel Goldcutter. The guild is very popular among players on Tortuga. If you want to join, you can find a member (veteran upon recruitment, officer if you have unlimited access, so there are no regular members) and the guildmaster, Nathaniel Goldcutter, is usually at Tortuga on the Abassa server. He will be glad to recruit you.
History
Founding
Back during Nathaniel Goldcutter's first days as a pirate, he joined a guild founded by his brother called the Flaming Slashers. but, alas, that guild collapsed, so he joined a guild founded by his friend called the Senate, a guild that has collapsed. However, Nathaniel's friend gave up piracy in the Caribbean, and, seeing that this guild would soon fall apart as well, turned in his Senate Uniform and founded the Armada of Storms, hoping to pass on his knowledge of the Caribbean to fellow pirates. after weeks of hard work, they finnally acheived 100 members, and hope to surpass even the greatest of guilds.
War against I N F E R N O
Armada of Storms indeed has some enemies. the first of these was the guild I N F E R N O. Many I N F E R N O members disrespected Nathaniel and his guild, calling them weak and often ganging up on the ships of our guild in SVS the AoS (Armada of Storms) members brought this issue to Nathaniel's attention, and he reported it to INFERNO's top members, who only said that the AoS deserved it for being stupid and weak, so Nathaniel issued a declaration of war against them, telling their top members to prepare to face elimination. To this day, the AoS often wins battles against them, whether they be stealing plunder from INFERNO ships, or sinking them in SVS.
Nathaniel Goldcutter
Their Beloved Guildmaster, Captain Nathaniel Goldcutter, Captain of the Lightning Tempest, Guildmaster and Founder of the Armada of Storms, Pirate Lord of the Boiling Bay: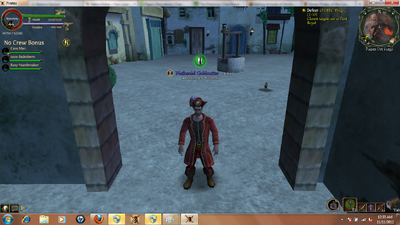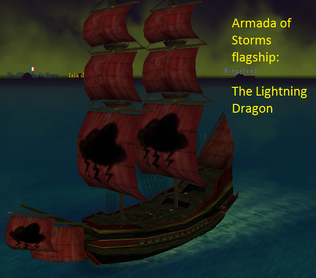 The Armada's Flagship: The Lightning Dragon:
Armada of Storms Flag: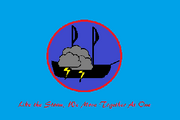 Community content is available under
CC-BY-SA
unless otherwise noted.